It's always important that before you sell your scrap, junk or unwanted car, you must do some research on where, whom and how to sell it.
When you have answers to this, you may consider selling your car at the right price. If you need some towing services, we can help you out with that. We can provide you with the car removals service that is efficient and smooth.
Help towing cars if your vehicle might be irremovable
We can send large towing trucks that can carry almost anything or any kind of vehicle, whether it's a small pickup or big trucks. We can bear it all! There is no any charges to you for any towing services. We pick up your vehicle from your garage to our junkyard.
Once it is sent to the junkyard, they are recycled. Before buying any car from the seller, we have a small detection team who can assess and diagnose the condition of the car. are done after assessment for recycling.
We buy the car right on spot. The seller gets instant cash and that's some great deal that any cash for car companies have to offer.
We buy all brands and types of cars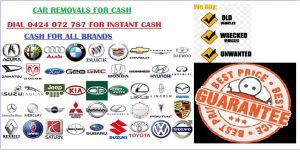 We buy all different kinds of vehicles that needs to be recycled and pay cash for any vehicles and trucks. No matter what the condition of your car maybe, you can bring it to us and we will help you sell it.
One big reason why sellers prefer to sell it to us is that, we offer maximum cash amount to all our sellers. No matter what condition your car may have been, we will help you sell it.
Once sold, it is recycled and the functional spare parts are sold in the market at cheaper prices or at affordable rates. Have a car in your garage that might be dead or alive, if you bring it to us, you can get up to $13000.
For any free quotes, we will provide you with the best quotes. You could also solve any queries and questions that customers might have.
How Car Removals Work:
At cash for cars, we buy almost any type of vehicles including trucks, cars, 4x4s, SUVs, and Utes. For cars such as these, we provide you with more cash. For a free quote, email us at info@cashforcar.melbourne and 03 9132 5069.
If you like our offers, we could arrange a pickup of your car immediately. We offer top prices for cars, Utes, Vans, and 4&4s, as you could earn top dollars for your car by selling it at cash for Melbourne.
Some of the wide range of services includes cash for cars, cash for trucks, cash for 4x4s, cash for used cars, cash for scrapped cars and cash for old cars.
We accept cars removals such as scrap cars, old cars, junk cars, second hand cars and accidental cars.
If your cars are irremovable, then we can arrange a pick up through our towing trucks.
Some car wrecker brands and its pricing model include Toyota, Hyundai, Honda, and Nissan. We also sell used spare parts of cars include engine parts, chassis parts, body parts, and electrical prices.
Where we are located?
Locations include Sunshine North, Dandenong South, and Broad meadows. We pay cash for cars, trucks and other vehicles.