Worried about where to sell your car? Do you want to get the best car removal service in the town? It's always important to do some research about car removals while before selling your car or another unwanted vehicle.
When you get the answers of which characteristics of the car removal company you must go with, you may consider selling your car at the right price! Car removals Melbourne is here to serve you and is just one call away. We provide free car removal services and pay top cash. If you need some towing services, we can help you out with that too. We can provide you with reliable car removal services that are efficient and smooth. So, Are you ready to give us a call? we are ready to serve you in any way!
Have An Unwanted Irremovable Vehicle? Call Our Car Removal Services!

Getting rid of an old and scrap car isn't a hassle anymore! You might think there's nothing left to get out of a car, but you can get cash for the parts from a wrecking yard. Getting rid of an old car is a lot easier when you can get cash on the spot for your unwanted vehicle. Plus, a wrecker can come and let your car removed for you, which is important when a car can no longer move on its own.
As a trusted car removal service provider, we can send large towing trucks that can carry almost anything or any kind of vehicle, whether it's a small pickup or big truck. We can bear it all! There are no extra charges for any towing service, we have free towing. We pick up your vehicle from your garage to our junkyard for no cost and pay cash up to $13000 on the spot. After carrying the vehicle to the junkyard, we recycle it for its spare parts in an eco-friendly way.
Before buying any car from the seller, we have a small detection team who can assess and diagnose the condition of the car. Our Important features include: We buy the used car right on spot. The seller gets instant cash and it's a great deal that any cash for car company can offer. Don't watch your old car rust and crumble away – call us today and watch the scrap metal turning into cold, hard cash.
Cash for Cars – We Buy All Brands and Types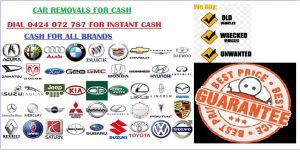 Car removals Melbourne provides a wide range of removal and Scrap Metal recycling services all across Melbourne Victoria and its surrounding suburbs. We offer free car removal service and pay top Cash for cars i.e., used car, old car, new car, unwanted car, scrap car, accident car, broken car, or junk car, etc. No matter whether it's running or not running! you can bring it to us or can call us today to get cash for it. We buy cars that need to be recycled and give free car removals in just a few hours after you give us a call.
One big reason why sellers prefer to sell vehicles to us is that we offer a fair price to all our sellers. No matter what condition your car may have been in, our reliable team will help you to sell it. Once your damaged car has been sold, it is recycled and the functional car parts are sold in the market at affordable rates. If you have a car in your garage that might be dead or alive, you can bring it to us and get up to $13000.
Fill in the basic vehicle details in the online form and confirm your instant quote in seconds. It's free and there's no obligation. We buy all cars' makes and models and also give cash for scrap metal. So, when cash for cars & car removal Melbourne is here, don't you ever try to think that your vehicle has no worth at all. We give same-day removal and cash offer. Our whole process of car removals cash confirmation takes less than an hour. Payments can be made via electronic transfer too! So, are you ready to get a free pickup from our efficient tow trucks? We are just here for car disposal.
How do Car Removals work? We Pay Cash Up to $13000

At cash for scrap cars, we buy almost any type of vehicle including trucks, cars, 4x4s, SUVs, and Utes. Cash for cars & car wreckers Melbourne pays you instant cash and removes the vehicle for free of charge. Our prices for any type of car are very competitive and we beat any genuine written quote. For a free quote, email us at info@cashforcar.melbourne or call at 03 9673 7457.
If you agree with our quote, we could arrange a pickup of your car immediately. You could earn top dollars for your car, van, truck, 4×4, or ute by selling it at cash for cars Melbourne.
Some of the wide range of services includes
cash for 4x4s
cash for used cars
cash for scrapped cars
We provide car removals for scrap cars, old cars, junk cars, second-hand cars, and accident cars.
If your cars are irremovable, then we can arrange a hassle-free pick up through our tow trucks. We are your only preferable unwanted car removal,Some car wrecker brands and their pricing models include Toyota, Hyundai, Honda, and Nissan. We also sell used spare parts of cars include engine parts, chassis parts, and body parts.
Where we are located? The Best Melbourne' Car Removal Service

Locations include Sunshine North, Dandenong South, and Broad meadows. We pay cash for cars, vans, trucks and other vehicles.